This Discovery Hole Could Be Worth Billions.
">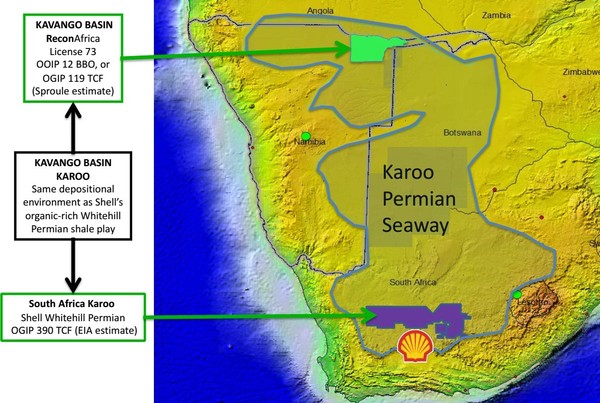 Compelling Geology. Proven Team.
RECON-ENERGY (RECO-TSXV; LGDOF-PINK)
Can Be Play-of-the-Year
There is not a single doubt in my mind.
Reconnaissance Energy Africa (RECO:TSX.V/LGDOF-PINK) is the single most exciting oil stock to watch in 2020.
This 60 cent stock is drilling a well that could create more than 100x times its value—yes, in just one hole.
Do you remember where you were when the first Permian well hit big? Or when the first Bakken well was successful? For Canadians it was the Leduc#1 well in 1947.
These wells discovered entire basins that discovered hundreds of billions in value for shareholders and created tens of thousands of jobs—high paying jobs that last for decades—in nearby communities.
ReconEnergy is drilling that kind of well. The geological data is compelling. A nearby well has hit shale. They have put together a Tier 1 team of geologic and market professionals—who have built and sold international juniors before (that is SO important!).
And when you combine their technical and market teams with the geological data, and then throw in the movie-worthy detective-work of how they acquired the entire basin—well, it made me run out and buy stock. Because history says if one hole in a blanket shale has oil, it almost always means the entire play–in this case 6.3 million acres–has oil.
ReconEnergy has secured the entire Kavango Basin in northeast Namibia—a sparsely-populated country that was colonized by the Germans. It's as deep as the Permian. It's as wide as the Eagle Ford. It could be worth A LOT of money.
Should ReconEnergy prove up what high quality data is telling this high quality team—about 12 billion barrels of OOIP (Original Oil in Place) could be present–then this stock is the Play of the Year.
One well–to be spud in July–could transform this $38 million market cap oil company into one worth billions for shareholders, and a multiple of that to industry and communities.
And I think the likelihood of it working out is VERY high for this kind of play. Here's how this massive play came about:
Energy entrepreneur Craig Steinke had just finished selling Realm Energy at $1.30/share. Realm was a Polish shale play, and he monetized it for shareholders quickly—it was a fast 500% win for the original shareholder group, and more than a triple for retail shareholders.
Fresh off an international shale win, he bought a new global shale study by IHS Markit—Steinke says he was quite probably the first or second customer for this comprehensive document.
He had a list of 20 criteria he wanted to see in a new play—some above ground, some under-ground.
The Namibian data was just interesting enough for him to fly over there and start developing relationships with the government.
He was looking for oil, but he found a gold mine of data.
The Namibians had recently paid for an airborne magnetic survey over a massive amount of land.
To be clear, a magnetic survey is a low cost way to cover a wide territory …read more