BHP Joins Forces with Prospect Generator to Explore Mexican Copper Project
">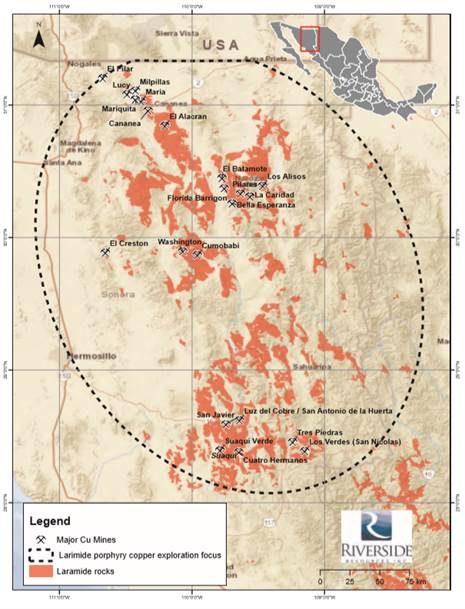 Source: Maurice Jackson for Streetwise Reports 05/16/2019
Dr. John-Mark Staude, president and CEO of Riverside Resources, sits down with Maurice Jackson of Proven and Probable to discuss his company's just-announced exploration funding agreement with BHP.
Maurice Jackson: Joining us for a conversation is Dr. John-Mark Staude, the president and CEO of Riverside Resources, Where Knowledge is Golden.
Riverside Resources Inc. (RRI:TSX.V; RVSDF:OTCQB has some breaking news coming from its corporate offices in Vancouver that shareholders should note. In the last interview, Dr. Staude, you addressed the five C's that will be catalysts in 2019 for Riverside, and one of them was copper, which will be germane for today's discussion. Dr. Staude, you have some groundbreaking news. What would you like to tell shareholders?
Dr. Staude: Riverside is so excited! We've now completed an exploration funding agreement with BHP. This agreement is at least two years long, with funding of at least a million dollars a year, for grassroots exploration, with additional funding by BHP to develop porphyry copper in Sonora, Mexico. It's exactly the type of business that we like to do, getting majors to fund the work, having the prospect generator model in action, and into a great commodity like copper. Fabulous news for Riverside. We're right on track. 2019–2020, a great year ahead.
Maurice Jackson: This is fantastic news! Today's press release is a true testament on the business and geological acumen of Riverside. I'm confident shareholders, as well as myself, are celebrating on the company's monumental accomplishment. Let's delve into the details of the agreement with BHP. BHP has a market cap close to $125 billion. Why did it commit on a two-year, $2 million agreement with Riverside?
Dr. Staude: I think the key thing is Riverside has the capacity, the expertise in Mexico to go and find growth projects. The world doesn't have enough growth, good new exploration opportunities. And this way, we expose BHP to Mexico, where our knowledge, our team on the ground can be rapidly working in a turnkey process that is a win-win for Riverside and BHP. We've been in Mexico for a decade. We've been able to develop projects. So this is a perfect fit of our expertise with BHP's capital and its knowledge and put it together to make the program successful.
Maurice Jackson: Dr. Staude, provide us with an overview of the program.
Dr. Staude: The program is three stages. 1) The first stage is generative. That's where BHP puts up the money, and we go about identifying good projects. Two types, one that we acquire, the other is that we stake. 2) Then there's an add-on capital that comes in that adds additional work, and we go to a defined project stage. That is a stage where there will be drilling and spending of up to $5 million, and BHP needs to spend $5 million. 3) After $5 million has been spent on any …read more